Stainless Steel Heat Treatment Furnace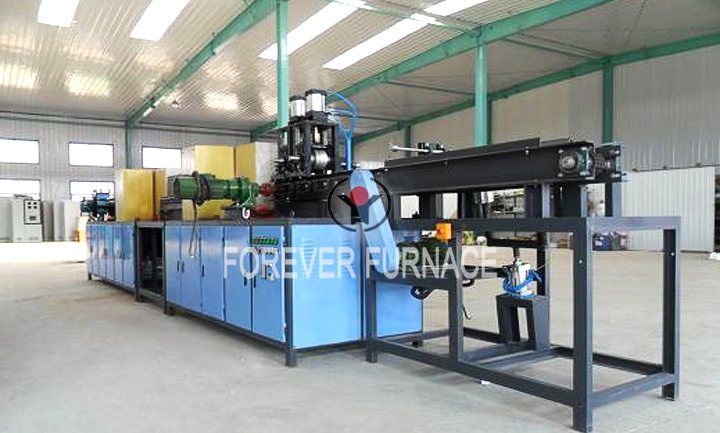 Features:
1.Application:Heat Treatment for Stainless steel, Deformed bar, Carbon steel, Spring steel,Ribbed bar
2.Available Power:100KW-10000KW
3.Non-standard Product:Professional Customization
Product Detail
Application Video
Product Tags
Forever Furnace is specialized in manufacturing stainless steel heat treatment furnace which are mainly used for stainless steel heat treatment,spring steel heat treatment,deformed bar heating,billet heating,deformed rod rolling and so on.
In 2018, we continuous finish two sets of stainless steel heat treatment furnace for our Shanghai customer, the stainless bar size is ø30-60 mm, now the equipment has been put into production and make profit for our users.
Please tell us the dimension,heating temperature and production capacity of the stainless steel,our engineer will give you the most suitable solutions for stainless steel.
Process for Stainless Steel Heat Treatment Furnace
With easy operation and automatic infrared thermometer for the equipment, the user can monitor and control the temperature of the stainless steel during the whole processing and control the production cycle time with the time reply.
When the feeding system start to feed the material,the infrared thermometer will leave the stainless steel and rotate an angle, then the pusher will push the stainless steel to induction heaters. Next the rollers will transmit the stainless steel to the roller end.Then feeder will turn the stainless steel to the discharging rack.During the transmitting process,the pusher will return normal and the next stainless steel will turn to the feeding rack.
At the same time, the thermometer will be back to measurement position and contact the stainless steel head.Then one time feeding and discharging is over. Usually, the production line will be equipped with one holding furnace to make the stainless steel have uniform heating.
Technical Support for Stainless Steel Heat Treatment Furnace
1.Powerful after-sale service team.Professionals are ready to provide the technical support of equipment installment, adjustment,maintenance and trouble shooting at any time.
2.With excellent technical instruction,we can ensure the reliability of induction heating process and final product qualification rate.
3.In order to analysis failure and supply spare parts,the users can contact with us on telephone or internet.
4.There are all kinds of accessories that are most frequently used in our warehouse,so we can supply the required accessories as soon as possible.
5.We provide the tool matching with the offered production equipment such as inductor,coil(wearing parts).
6.We will be glad to provide our experience in the aspect of material inspection,analysis,calculation and procedure development.
Forever Furnace is the leading manufacturer of Stainless steel heat treatment furnace in China.Dedicating to developing more energy saving induction heat treatment equipment more easy to operate,Forever Furnace will be your best partner.