Steel Bar Heat Treatment Furnace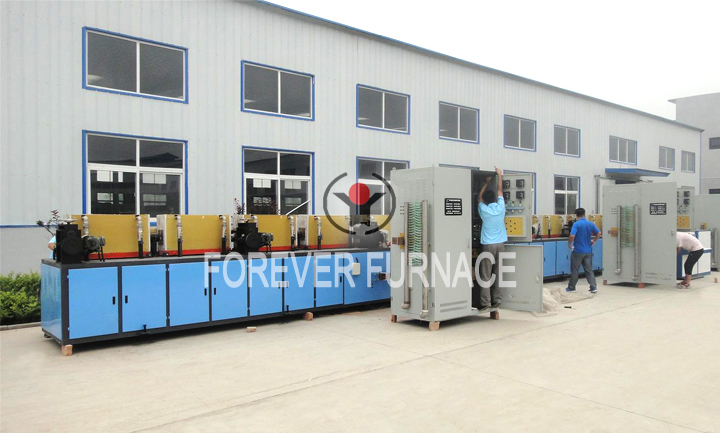 Features:
1.Application:Heat Treatment for Steel Bar,Steel Pipe,Steel Billet,Steel Slab,Steel Wire,Rebar,Steel Strip
2.Available Power:100KW-10000KW
3.Non-standard Product;Professional Customization
Product Detail
Application Video
Product Tags
Our steel bar heat treatment furnace can be used for steel bar,steel pipe,steel billet,steel slab,steel wire heat treatment such as heating, diathermy ,forging,rolling,hardening,tempering and shearing.
Technical Support for Steel Bar Heat Treatment Furnace

1.Powerful after-sale service team.Professional technicians are ready to provide the technical support of equipment, installment, adjustment, maintenance and trouble shooting at any time.
2.With excellent technical instruction,we can ensure the reliability of induction heating process and final product qualification rate.
3.In order to analysis failure and supply spare parts,the users can contact with us on telephone or internet.
4.There are all kinds of accessories that are most frequently used in our warehouse,so we can supply the required accessories as soon as possible.
5.We provide the tool matching with the offered production equipment such as inductor,coil (wearing parts).
6.We will be glad to provide our experience in the aspect of material inspection,analysis,calculation and procedure development.
What should you care when you purchase steel bar heat treatment furnace?
 Judge the actual status of identified power
As we all know,the more larger power,the higher price.Thus,many manufacturers will identify wrong power or mark larger power than actual ones.But you needn't worry this point if you buy our equipment.Because our power is the real and we will give clear label for each induction heating equipment.
Define the quality of induction heating equipment
As the real manufacturer,we should put the quality in the first place.As the buyers,they want good quality products but lower prices.Forever Furnace can not only supply good quality induction heating equipment,but we are induction heating system specialists with over 16 years of  experience who can provide the most suitable and energy-saving induction heating solutions.
Distinguish whether the internal components are good or not
Driving by benefits,many manufacturers will use cheap and inferior internal components for the induction heat treatment equipment but with gorgeous shells.Even some manufacturer will use mechanical recycling parts.These induction heating equipment or induction heating system will break down frequency.It will take you time and money to repair them.In this case,you'd better buy good quality induction heating equipment costing reasonable price.
Select after-sales service
At the same time,it is also very important that you should survey the after-sales service of the supplier.Do not select the supplier without after-sales service even they can give you cheap price.Our company is a professional manufacturer integrate production,sales and service.Once you buy our induction heating equipment,our engineer will install and adjust the equipment in your local factory and give technical instruction and training for the operators.In addition, we provide long term technical service and spare parts support !!!
As the professional producer,Forever Furnace can not only supply the good quality induction heating equipment but we are the induction heating equipment specialist who can provide you the most suitable and energy-saving induction heating equipment solutions.