Want to invest in a metal and steel processing plant, how to buy equipment? The initial economy is limited and the factory area is small. What kind of steel bar heating furnace is suitable? The range of processing metal workpieces is relatively large. How to configure steel bar heating furnace is reasonable? Is the price expensive? Whether you will encounter the above problems? Don't worry. Hebei FOREVER electromechanical gives you advice. The new steel rod heating furnace has flexible production, diversified configuration, efficient heat treatment, environmental protection and durability. It can solve your worries and difficulties.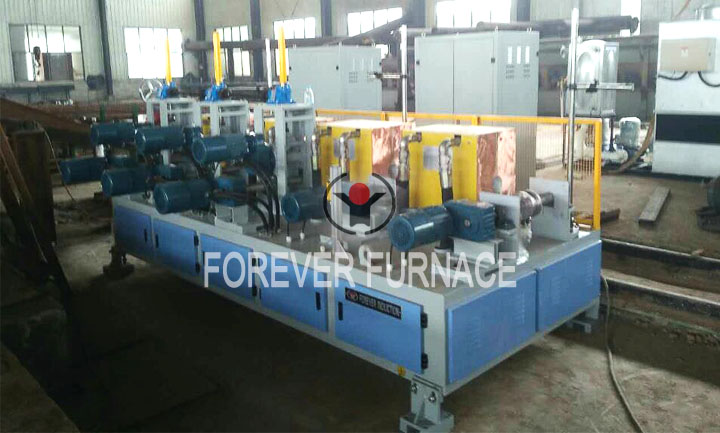 Do not underestimate the use ofsteel bar heating furnace. The technology of professional manufacturers is mature. The steel bar heating furnace produced has very comprehensive functions and reasonable coordination of various parts. It can produce metals of various sizes and specifications for users. At the same time, the characteristics of steel bar heating furnace are not limited to this, as follows:
1. The investment is flexible and meets the economic conditions of metal workpiece forming and processing plants of different sizes
For non-standard customized equipment, the configuration schemes of steel bar heating furnace are diverse, the equipment price and investment are flexible, and the economic conditions of various manufacturers are fully considered, so that all users can afford the equipment.
2. Compact structure and small occupied space
The reasonable and scientific structure and compact layout can improve the functional comprehensiveness of the steel bar heating furnace, reduce the floor area, and make the installation, commissioning and maintenance of the whole set of steel bar heating furnace more convenient.
3. Flexible production and multiple operation modes
4. Manual, automatic, half cycle, full cycle and other functions can be selected arbitrarily. Network type IGBT induction heating power supply control has three functions: automatic start, emergency stop and emergency stop, with high safety.
It is also mentioned above that the steel bar induction heating furnace is a non-standard customized equipment. The manufacturer provides a variety of configuration schemes, and a variety of options can be selected by users. Then different matching schemes have different functions and different prices. The specific quotation of steel bar heating furnace depends on the configuration scheme finally selected by customers; At the same time, the price of equipment with low power will be lower. After all, the value is closely related to the price.
Hebei FOREVER Electromechanical Equipment Manufacturing Co., Ltd., which has been specializing in the production of steel bar heating furnace for many years, has been forging ahead and producing carefully. It focuses on providing users with high-quality and cost-effective steel bar induction heating equipment with affordable price and comprehensive functions. Interested friends are welcome to inquire and quote at any time. The manufacturer also guides you in the selection and explains the equipment configuration scheme in detail.
Overseas manager: Tom Wang
Email:tom@foreverfurnace.com
Phone: 0086-13303078975(whatsapp, wechat,line)
---
Post time: 03-31-2022