Hebei YUANTUO Electric Machinery Co., Ltd. is the best choice for the high-quality heating furnace for steel rolling. The company specializes in the R & D, design, process, application, manufacturing and sales of induction heating equipment. It has rich experience and practice cases in the field of heating furnace for steel rolling. According to your manufacturing requirements, the company processes special induction heating equipment and supporting equipment for steel bars.
Technical parameters of heating furnace for rolling bar:
1. Power supply system: igbt200kw-igbt2000kw.
2. Workpiece material: carbon steel, alloy steel
3. Equipment capacity: 0.2-16 tons per hour.
4. Elastic adjustable pressing roller: the steel bars of different diameters can be fed at a constant speed. The roller table and pressing roller between furnace bodies are made of 304 non-magnetic stainless steel and water-cooled.
5. Energy conversion: heating to 930 ℃ ~ 1050 ℃, power consumption 280 ~ 320 ℃.
6. Infrared temperature measurement: the infrared temperature measurement device is set at the discharge end to make the temperature of steel bar heating consistent.
7. According to your needs, provide a remote console with touch screen or industrial computer system.
8. Human machine interface touch screen PLC automatic intelligent control system, highly humanized operation instructions.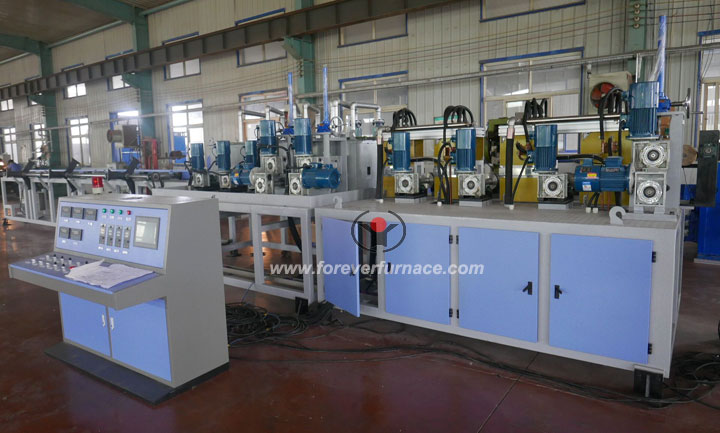 Advantages and features of heating furnace for rolling bar:
1. Digital air-cooled induction heating power control, energy saving and environmental protection, low power consumption;
2. Fast heating speed, less oxidation and decarbonization, high production efficiency, energy-saving raw materials;
3. Stable and uniform heating, high temperature control accuracy, small temperature difference, no pollution;
4. The PLC control program of fully automatic and intelligent human-machine interface has the function of "one key start";
5. The protection function is complete, the remote extension equipment fault has the automatic alarm function, the operation reliability is strong;
6. Automatic feeding, 24-hour continuous work, saving power, environmental protection, reducing cost and labor costs.
Our packaging and logistics:
1. The heating furnace for steel rolling bar adopts standard wooden box, which is water-proof, bacteria proof and shockproof. It is customized for the equipment to ensure its firmness. The equipment mark and precautions are pasted on the outside of the packing box.
2. A buffer pad is placed inside the metal heating equipment to ensure that there is no scraping phenomenon in the steel bar heating furnace during transportation.
---
Post time: 04-29-2020